People
Gambling and Aboriginal people
Most people in Australia gamble, playing lotto, scratchies and other games. Gambling is very common in many Aboriginal communities but little is known about why they gamble and how it destroys their communities.
Close this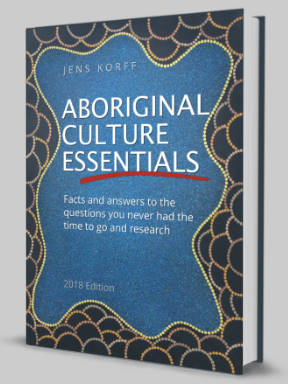 Wishing you knew more about Aboriginal culture?
Search no more.
Get key foundational knowledge about Aboriginal culture in a fun and engaging way.
This is no ordinary resource: It includes a fictional story, quizzes, crosswords and even a treasure hunt.
Stop feeling bad about not knowing. Make it fun to know better.
Selected statistics
20%

$24m

80%

12%
1–1.5%

$18b

20%

8.7%
Aboriginal people gamble like me and you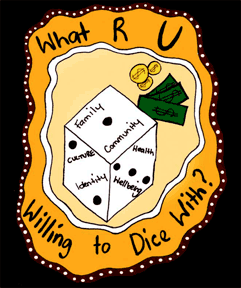 Most people in Australia love to gamble, play lotto, scratchies, in casinos or RSLs, at sporting events, or betting at horse or dog races.
The Melbourne Cup is by far the most known and popular betting event with many Australian employers interrupting work to watch the race.
Gambling is very common in many Aboriginal communities but little data exists. Aboriginal people gamble for the same reasons as other Australians:
because they are bored,
to be entertained,
to win money,
to meet other people,
to reduce stress, and
because they like the thrill of a game.
And before you think that gambling is an 'Aboriginal problem', remember that the Australian Institute of Family Research found that "gambling is normalised in this country", also for Australian youth, who believe that "as long as you gamble, you feel like an Australian". [7]
Fact
Australia has more high-loss poker machines per capita than any other country in the world. [8]
Until it demerged in 2020, Woolworths owned and operated more poker machines than any other entity in Australia. [8]
Video: Aboriginal gambling
Gambling counsellor and manager of NSW Aboriginal Safe Gambling Services, Ashley Gordon, talks about Aboriginal gambling and suggests how treatment services and communities can work together to address high rates of gambling harm in Australia's Aboriginal population.
A (very) short history of Aboriginal gambling
Research from the Australian Institute of Family Studies on gambling within Aboriginal communities showed that gambling first became popular in the 1700s when they were introduced to playing cards by Macassan traders.[5]
It is likely that Aboriginal people also gambled by wagering for food and clothing. In the late 19th and early 20th century large card circles for adults and children were common on missions and reserves. Depending on age children played for lollies or cigarettes. Today community card playing is part of everyday life in many Aboriginal families [6][2].
Aboriginal people describe gambling as a way of socialising, particularly in rural and remote areas, to relieve boredom and loneliness.
While women are more likely to gamble on poker machines, bingo and cards, men are more likely to gamble on horse racing.
Consultations suggest that problems associated with gambling in Aboriginal communities are getting worse.
Gambling in Aboriginal communities has a big impact because some people have low incomes and big habits.

— Survey participant [6]
Where Aboriginal gambling is different
While the main reasons for Aboriginal people to gamble are the same as everyone else's, there are a few important differences.
Aboriginal people usually have about 50% less money than non-Aboriginal people and have a higher unemployment rate, suggesting that "significant numbers of Aboriginal people experience gambling-related problems" [6].
In fact, the percentage of Aboriginal problem gamblers is many times higher than that for non-Aboriginal people. In Victoria in 2015, 8.7% of Aboriginal people had a gambling problem and 5.4% were identified as being "at risk". This compares to a 4.1% problem gambling rate in 2008, and only 0.7% of non-Aboriginal Victorians having an identified gambling problem in 2015.[5] Numbers could be even higher though because many Aboriginal people seeking support do not identify themselves as problem gamblers.
Many Aboriginal people consider gambling to be a recreational activity and closely link it to drinking. This is due to the frequent co-location of gambling and alcohol-licensed premises.
Many gambling venues offer easy access, long opening hours, air condition and serve food and drinks. This makes them an attractive alternative to hot outdoor camps or overcrowded living conditions which are common in Aboriginal communities.
Aboriginal gambling helps escape poverty
Problem gambling is more common in people who are socio-economically disadvantaged. Aboriginal people who are problem gamblers often try to numb the memory or effects of the trauma and experiences they have suffered.
They gamble as a way to escape poverty, because as children they were forcibly removed from their homes, due to racial discrimination, or because of mental illness, including depression.[5]
"Sometimes they gamble as a way to handle grief and try and get over what's happened," explains Maurice Shipp, acting manager of counselling at the Victorian Aboriginal Health Service.[5]
Aboriginal gamblers report devastating impacts on their lives, including being in desperate financial situations, family and relationship problems and breakdowns, and health and well-being issues.
Gambling problems might also go along with drug and alcohol problems. Stress, anxiety, trauma, grief, depression and feelings of not belonging to the community make gambling problems more common for Aboriginal people than the non-Aboriginal community.
Cultural expectations to gamble and to share resources with relatives results in gambling-related harms stretching across whole Aboriginal communities.[5]
In most communities gambling is still not recognised as a problem and is therefore not discussed or addressed [1]. To help them it is critical to provide culturally appropriate services, as cultural barriers can be an obstacle to people reaching out for help.
Gaming machines are good pain killers.

— Aboriginal Health & Medical Research Council of NSW [6]
Gamblers don't seek help
Common gambling problems are well known and similar throughout the world. Gambling has been linked to problems with mental health (depression and suicide), physical health, spiritual health, family breakdown, domestic violence, crime, financial difficulties and many more issues [4][1].
Within Aboriginal communities gambling problems are often a source of shame and stigma which can stop them from seeking help with gambling. Aboriginal people who work in professional roles or who are respected elders in the community are particularly vulnerable.
Feelings of shame and concerns about confidentiality are significant barriers to Aboriginal people seeking help for problem gambling, especially with gamblers who have difficulties in limiting their money and time spent gambling. Hence not many Aboriginal people seek help from gambling treatment services.
We as Aboriginal people don't like talking about gambling.

— Ashley Gordon, Ministerial Expert Group on Gambling [4]
Governments usually tackle problem gamblers with counselling services, but there is a shortage of Aboriginal gambling and financial counsellors. In 2008 only 6 Aboriginal gambling counsellors existed in all of Australia [6]. Many Aboriginal gamblers shy away from using the few services that exist [2].
Worse, the level of gambling by adults in many Aboriginal communities is also contributing to the increasing numbers of children gambling, say researchers [1]. "This is a damaging societal trend that requires change before the gambling problem escalates to the level of damage felt by Aboriginal communities as a result of alcohol and substance abuse."
Aboriginal health services routinely deal with mental health issues, drug and alcohol abuse and domestic violence but overlook addressing gambling.
Gambling is causing a lot of harm, but what scares me most is that it is not being discussed by Aboriginal people.

— Ashley Gordon, Ministerial Expert Group on Gambling [2]
If you see a gambling counsellor its saying you're a loser. [People] don't understand the psychological escape gambling is for some people and how difficult it is to walk away.

— Survey participant [6]
Gambling affects children's health
A study revealed a direct correlation between levels of gambling in Aboriginal communities and carer report of illness experienced by Aboriginal children in those same communities [9].
If a household had gambling problems, there was a 50% increase in carer report of ear infection, and for scabies, rates of reporting were nearly doubled in these houses.
The study suggested that other gamblers may be carriers, contaminating household facilities such as the toilet, linen and towels.
Gambling parents neglecting their children, and kids failing to attend school due to a lack of sleep resulting from players' noise also impact a child's heath.
If the community had a permanent doctor and community facilities such as an aged care and women's centre, gambling problems halved [9].
Where to get help
There are only few mainstream service providers who are experienced in working with Aboriginal clients. Many need more knowledge, skills and confidence to engage with Aboriginal communities.
If you are a gambler and you need help contact the following services and resources:
Aboriginal Safe Gambling Program
1800 752 948 (freecall)
This helpline provides information about the NSW Aboriginal Safe Gambling Program.
Problem Gambling Help Line (G-line) NSW
1800 633 635
This is a confidential 24-hour, 7 days a week, state-wide helpline offering crisis counselling, available to anyone in NSW.
Gambling money used to help Aboriginal groups
In New South Wales, the Responsible Gambling Fund uses some of the money gambled (or lost) to support gambling treatment services and research. Places that earn more than A$1 million from their poker machines (called 'pokies' in Australia) each year get a tax break if they contribute to local community projects. Aboriginal community groups are eligible to apply for such funds.