People
LGBTI Aboriginal people – diversity at the margins
Lesbian, gay, bisexual, queer, transgender and intersex Aboriginal people represent diversity within the already diverse Aboriginal culture. But they also belong to some of the most marginalised groups in Australia.
Close this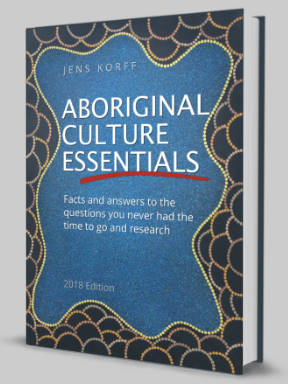 Wishing you knew more about Aboriginal culture?
Search no more.
Get key foundational knowledge about Aboriginal culture in a fun and engaging way.
This is no ordinary resource: It includes a fictional story, quizzes, crosswords and even a treasure hunt.
Stop feeling bad about not knowing. Make it fun to know better.
Sistergirls & Brotherboys: transgender and queer Aboriginal people
What do these abbreviations stand for?
LGBQTI = Lesbian, Gay, Bisexual, Queer, Transgender and Intersex.
GLBTIQ = Gay, Lesbian, Bisexual, Transgender, Intersex and Queer.
Queer was originally a derogative term for 'gay', now being reclaimed by some gay men, lesbians, bisexuals and transgender people as a self-affirming umbrella term. [1]
Intersex('in-between sex') people are born with external genitalia, internal reproductive organs, and/or endocrine system that are different from most other people. Most identify as either sex. [1]
Transgender people have been part of Aboriginal culture long before European invasion.[2]
Usually called sistergirls or brotherboys (also spelled Sista Girls, Brotha Boys), transgender Aboriginal people are among the most marginalised in Australia. While sistergirls identify with their female side, communities often still see the boys who they witnessed growing up and discriminate the 'new' woman in their midst.
They gave themselves the name 'sistergirls' because they are all girls trapped in a male body, and they treat each other like sisters, sticking together and helping each other.[3] Once a reference solely for transgender Aboriginal people, 'sistergirls' now more widely also describes "those who are queer".[4]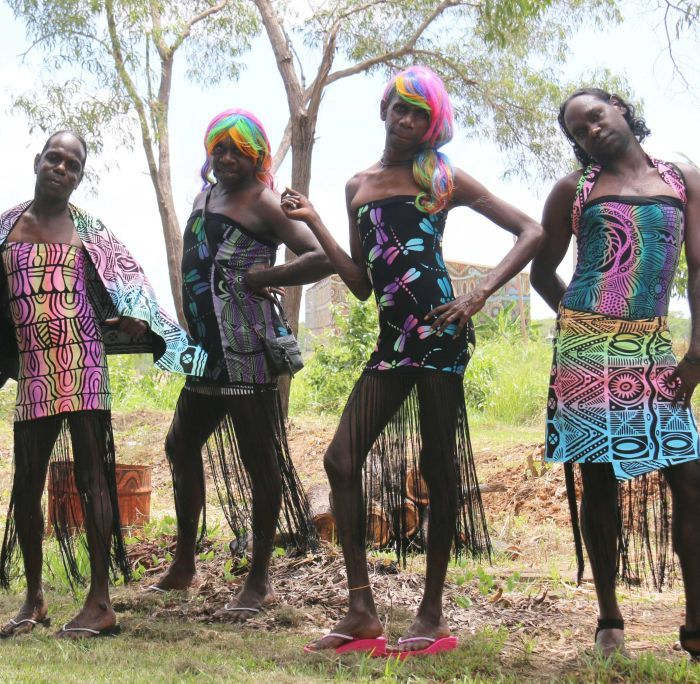 Isolation is common among transgender Aboriginal people, and they have to fight to be accepted in their communities for who they are. They feel stigmatised or unaccepted by the older generations.
"To have [our Elders] here and to hear them say 'we accept you' was so important," says Lisa O'Brien, the sistergirl and brotherboy representative to the Anwenekenhe National HIV Alliance. [5]
Transgender man Kai Clancy explains what it means to belong to this minority: "I thought I might have to sacrifice my culture just to be happy in my body, but that's not the case. Culture means the most to me; a lot of Aboriginal people feel that way. Acceptance in my own community is vital." [5]
The Tiwi Islands, about 80 kms north of Darwin, are home to Australia's largest per capita transgender population, with locals claiming that up to 5% of approximately 3,000 residents identify as transgender, gay, lesbian or bisexual.[4] The first resident publicly identified as transgender in the 1970s. There are about 50 transgender women on the Tiwi Islands,[5] traditionally known as yimpininni, who live as "outcasts" among the inhabitants of the islands. Similar communities exist elsewhere in Australia, for example on Palm Island. A well-known sistergirl is Foxxy Empire, the alter-ego of Tiwi Islander Jason De Santis.
"In Aboriginal communities, if you are a sista girl, you're expected to play the role of a woman," explains transgender woman Lillian in the documentary Sistergirls.[3] "That means long, very big long t-shirts, big long shorts, hair done up, you know, they're your sista girls. The sista girl is expected to find herself a 'real' man, a straight man."
Some Sistergirls tell stories where their father wanted to shoot them, and of suicides among them with the dead being denied the traditional death rites [5].
Lasey Dunaman, winner of the 2018 Miss First Nation, knows all too well about these challenges. "I've come across a lot of hardships growing up. I went through a lot of things like depression and anxiety. I'm a suicide attempt survivor. And so I really hope to spread a message of love, raise awareness for youth depression and teen suicide. Especially within our rainbow communities and Indigenous communities."[6]
Behind [the female part] are the little boys that they grew up [from] and the community that looks on them as boys, not as women.

— Bindi Cole, Aboriginal photographer [4]
Coming out
'Coming out' means that a LGBTI person discloses their sexual orientation or gender identity to their family, friends or peers. It can take a long time to take this important step as reactions can be unpredictable and range from rejection to acceptance.
"After coming out, I've just changed entirely as a person," recounts Felicia Foxx. "I'm so incredibly proud of myself to be where I am today, being a positive influence for the up-and-coming generations no matter what colour, no matter what shape."[6]
"And hopefully," adds Shaniqua TiwiSista, "the younger ones have an eas[ier] journey of coming out and don't have to face those hardships. Indigenous drag performers should be more visual in the mainstream community. It's more about having that visibility and opportunity as well. Because we've always been knocking on doors."[6]
Increased visibility helps other LGBTI people decide to come out, but also events that celebrate the diversity of gender and sexual orientation, such as Miss First Nation pageant, held annually in Darwin.
"[Before this event] there were no Aboriginal Torres Strait Islander drag queens out there. And now, they're all coming out of the woodwork, which is amazing. It's because of this competition. Words can't explain how amazing it is," raves Timberlina.[6]
Fact
Miss First Nation pageant was first launched in Darwin in 2017 and is the inspiration behind the documentary film Black Divaz. It's Australia's only national competition for Aboriginal drag performers. Contestants come from all over Australia to vie for the coveted title of Miss First Nation.[6]
Challenges for transgender, gay & lesbian Aboriginal people
The biggest challenges are racism, sexual health, lifestyle, suicide, mental problems, self-esteem and identity, but also changing one's name and a lack of support [3].
Growing up in rural and remote areas can be hard as communities are quick and harsh with singling out people who don't fit into the binary gender roles. To survive, young homosexual Aboriginal people sometimes date the opposite sex to hide their true sexual orientation. [7]
"Being gay in a regional, rural, or even remote town that doesn't feel accepting or safe can make you feel ashamed of who you are," says Mark Nannup, a Yamatji man from Meekatharra. [7]
It's an experience Allan Clarke, a gay Muruwari man who grew up in Bourke, has been through.
"It wasn't until I moved to Sydney that I found freedom among the concrete towers and in the loving embrace of older staunch gay black men, women and sistergirls. They taught me I was exactly how I was meant to be, that we have existed in our beautiful culture since the very beginning," he reveals. [8]
If there's one thing I've learned over the years, it's that if you want something done, you have to do it yourself and be prepared for a rough ride.

— Mark Nannup, a Yamatji man from Meekatharra [7]
Often excluded from mainstream health programmes, they are more likely to be at risk for violence, sexual abuse, HIV and AIDS [5] and experience much higher rates of self harm and suicide [9].
"I think if you add in homophobia for GLBTIQ people that is just another extra burden that people have to bear and something they have to respond to in their lives," explains Steven Ross, a gay Aboriginal man [2].
Having to go to the male ward of a health clinic or hospital makes sistergirls uncomfortable as they might meet other male relatives of their extended families. Eventually they are too afraid to use them.
Some sistergirls experience physical violence and abuse, especially if they have to go to prison where other inmates might consider them as "a piece of property" [3].
Being transgender in remote Aboriginal communities often means going against strictly observed cultural practices defined by, and for, male and female gender roles. In many cases it also means having to go against strictly held religious beliefs in the same communities.
Coming out is never easy, and even more difficult for Aboriginal transgender people. Dr Sandy O'Sullivan, from Brisbane, is a lesbian. "I can say from my experience that it did make it harder and part of that was other people's expectations, some very old fashioned ideas, that this wasn't how we lived, you know, pre-colonisation and so on, but that's really challenged," says Dr O'Sullivan [2].
There's a lot of work to be done within mainstream GLBTIQ communities about Indigenous people, racism exists within those communities just as much as it does in mainstream straight communities.

— Steven Ross, gay Aboriginal man [2]
In 2010 film-makers Andy Canny and Donna McCrum shot Eye documenting the sistergirls on Tiwi Island. At the beginning the film caused a lot of problems because it was so controversial, but it has since turned into "a really beautiful healing tool". [4]
I was born as a male but I've got a woman's spirit inside of me.

— Lillian [3]
Tip
There is a Facebook support group called Sistergirls Brotherboys.
Black Rainbow helps Aboriginal LGBQTI people who are at risk of suicide and to ease the burden of youth homelessness.
The Koori Gras (which started in 2018) offers vibrant glimpses into the shared stories and history of Aboriginal people's gay, lesbian, bisexual, transgender and queer community.
BlaQ Aboriginal Corporation wants to improve visibility of the Aboriginal LGBTQ+ community via a network of sharing, support and connection. It supports, encourages and empowers people to take control of their own lives.
Video: Brother boys yarn about their experiences
Kai Clancy, 18, and Dean, 50, first told the world about their lives in a video screened during the 20th International AIDS Conference held in Melbourne in July 2014.
Some well-known gay & lesbian Aboriginal people
Some gay Aboriginal artists include Destiny Deacon, Karla Dickens, Jenny Fraser, Clint Lingard, Arone Meeks, Clinton Nain, Peter Waples-Crowe and Jeffrey Samuels. Jack Charles is a gay actor.
Kerrianne Cox "chose" to be homosexual because after being abused as a child she didn't trust men anymore [10].
Lou Bennett, who co-founded the group Tiddas, is a gay singer and artist.
Wesley Enoch is a gay playwright (e.g. Black Diggers, The Story of the Miracles at Cookie's Table), son of an Aboriginal man and a white mother.
Andrea Fraiser has been working with Aboriginal Media in various capacities, including film, television and radio.
David Page, the musical heart of Bangarra Dance Theatre, came out as being gay during the season of his play Page 8.
James Saunders is from the Killcare clan of the Gunditjmara nation in south west Victoria and calls himself "a proud Wiradjuri man". He runs his own digital PR agency, Mopoke Media, aiming to promote the Aboriginal community from a positive angle. James is also a member of the Sydney Convicts, Australia's first gay rugby team. [11]
Jack Charles is a gay actor, former heroin addict and jailbird, member of the Stolen Generations, and Aboriginal activist.