Health
Aboriginal sexual health
Sexual health practices for Aboriginal people need to be customised to match their culture. Condoman and the Aboriginal condom brand Snake are successful examples of such tailored approaches.
Close this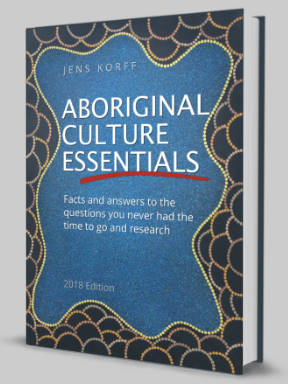 Wishing you knew more about Aboriginal culture?
Search no more.
Get key foundational knowledge about Aboriginal culture in a fun and engaging way.
This is no ordinary resource: It includes a fictional story, quizzes, crosswords and even a treasure hunt.
Stop feeling bad about not knowing. Make it fun to know better.
Selected statistics
25

21

2.8

27

51%

25%
80%

33%

5.9

3..50

8.3%
Barriers and challenges to Aboriginal sexual health
Sexual health is very important for Aboriginal people as well. But approaches to promote sexual health in communities need to be different for many reasons.
Language: Accessing sexual health services and information can be difficult in remote Aboriginal communities where English is a third or fourth language. In some communities, such as Maningrida, 400 km east of Darwin in North East Arnhem Land, there are 13 language groups [3].
Education: Many Aboriginal people don't know the right questions to ask.
Fly-ins: Doctors and nurses visit communities for a couple of months only, and staff changes. Aboriginal people find themselves continually repeat their medical stories [3], which can be embarrassing.
Remoteness: 80% of sexually transmitted infections among Aboriginal people are found in remote and very remote communities [3] due to a lack of services and education.
Shame: For many Aboriginal people it is not easy to approach doctors or nurses due to the stigma attached to even going to a sexual health clinic.
Close relationships: In small communities it is quite possible that is was your aunty behind the counter of a sexual health clinic so you couldn't be sure confidentiality was observed.
The Condoman campaign promotes the use of condoms in a fun way, targeted to Aboriginal youth. Snake condoms follows that lead and designed a campaign by Aboriginal youth for Aboriginal youth. (see below)
Aboriginal people over-represented for sexual diseases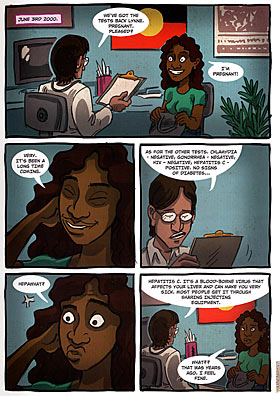 Aboriginal people are more susceptible to sexually transmitted infections (STIs), especially in remote areas. Health experts are concerned that these diseases are acting as a gateway to HIV. [7]
Figures for 2015 show that Aboriginal people are over-represented in sexual disease statistics: [7][2]
Chlamydia: Considered the most common STI in Australia, 9% of cases were recorded affecting Aboriginal people. In the Northern Territory, Western Australia, South Australia and Queensland, Aboriginal people are 2.8 times more likely to have a notified case of chlamydia. The good news is that during 2013-2017, there was a decline of chlamydia rates among Aboriginal males (7.9%) and females (9.8%). [8]
Gonorrhoea: Nearly 20% of all cases are among Aboriginal people, with a rate 6.9 times higher than the general population. But this rate decreased by 17% between 2012 and 2016. In remote and very remote areas the rate can be up to 30 times, but also declined by about 8% to 2016.
HIV: While the general population's cases are steady or declining, there were 38 new cases of HIV among the Aboriginal population in 2015, double the rate of the general population. In 2018 there were 34 new cases. [8]
Syphilis: 16% of reported cases are among Aboriginal people, and their rate is on average 6 times higher than for non-Aboriginal people (but up to 132 times higher in remote areas). In the four years to 2016, syphilis rates doubled among non-Aboriginal populations but tripled among Aboriginal people. A large number of underage and teenage Aboriginal people contract syphilis. 20% of Aboriginal cases are people aged 15-19. Underage Aboriginal girls in the NT are almost 60 times more likely to get syphilis in the 10 years to 2016.
Hepatitis: Aboriginal people make up 8% of the hepatitis C population, [5] a figure which could be far higher considering that many people have not been tested and could have the virus. Less than 2% of Aboriginal people access treatment, and if they suffer from other diseases the barrier to seek treatment is even higher. Few of them know that hepatitis B and C could be managed and hepatitis C can be cured. For 2013-2017 there was a 37% decline in the Hepatitis B rate for Aboriginal people. [8]
Take care when you use the above statistics, as some of the data might not capture all Aboriginal Australians. Cases with an "unknown" Aboriginal status can be as high as 36%. [7]
Be also careful when you interpret the high rate of STIs among Aboriginal people. Health experts attribute them to several factors, including a government failure to address outbreaks, failing health programs and, to a much lesser degree, child abuse. [2]
In fact, the Aboriginal medical services alliance NT (Amsant) found that an upward trend for children and young people over 12 could be attributed to normal emerging sexual activity, which begins around the same median age for all Australians at 15 years, rather than child abuse. [2]
Fact
Hepatitis B was first diagnosed in an Aboriginal person in 1964. [5]
The consequences of not having had a prompt response on the part of government is appalling. We've had six infant deaths due to congenital syphilis.

— Olga Havnen, chief executive, Danila Dilba health service, Darwin, NT [2]
Sexual health campaigns & brands
Condoman
Condoman is an Aboriginal male character who wears the colours of the Aboriginal flag to spread the message of safe sex and male responsibility for condom use.
He was originally conceived and developed in 1987 by a group of Aboriginal Health Workers in Townsville. They noticed that Aboriginal people did not get the message of the mainstream campaign.
Although Condoman was specifically meant for Aboriginal and Torres Strait Islander communities his popularity over the years crossed over to the wider Australian population; and eventually to other counties in the South Pacific region. During the late 1980s and early 1990s he reached cult status and became a national icon for safe sex awareness for all Australians [9].
The Condoman character was part of a broader prevention campaign that targeted younger Aboriginal audiences. In an effort to overcome the cultural stigma against condom use, the Condoman proudly clutches a box of condoms and proclaims there is no reason to be ashamed. The image correlates masculinity and responsible sexual behaviour by challenging the appeal of promiscuity and suggests that safe sex is not a reason to feel embarrassed or disgraced.
In 2012 a female character, Lubelicious, joined Condoman. The comic "Condoman & Lubelicious" is a sequel to the popular Condoman comic, and the script was developed with input from Aboriginal people in Brisbane. The comic uses colourful illustrations together with culturally appropriate storylines to engage Aboriginal young people on the importance of condom use [10].
Critics of the Condoman campaign say that it "dumbs down" sexual education and that instead Aboriginal people should be taught about germ theory in their own language [11]. "Teaching germ theory and basic health literacy in the language of the people works, and works very well," says Richard Trudge, chief of the Aboriginal Resource and Development Services. "It gives Aboriginal people real information about STDs [sexually transmitted diseases] and, at the same time, teaches them about many other diseases and illnesses that can affect their lives."
To build upon the huge following of the comic book, and have an Indigenous superhero deliver sexual health messages in an interactive media format—featuring Indigenous voices and soundtrack—is a powerful and effective way to deliver these health messages.

— Helen Travers, Director of HITnet which created the videos [12]

In 2009 Condoman was relaunched in comic book format with a new and modern design. In 2010 five video clips were made based on the comic book of Condoman.
Snake—An Aboriginal condom brand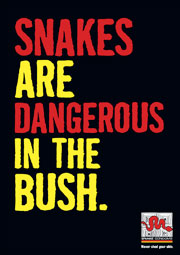 On December 1st, 2008, an unusual website was launched. It promotes 'Snake' condoms in the colours of the Aboriginal flag: red, yellow and black.
"Snake Condoms is Australia's first and only Indigenous-friendly, socially marketed condom brand."
With teenage pregnancies five times higher amongst Aboriginal women and sexually transmitted diseases more prevalent in Aboriginal communities, Snake condoms hit a nerve.
The brand targets Aboriginal people with humorous, witty slogans like A trouser snake is the deadliest! ('Deadly' meaning 'great', 'wonderful', 'excellent') or Cover its head and it won't bite you!.
The company's website provides useful information on contraception, pregnancy and 'sex stuff' and reminds young Aboriginal people that 'it's okay to say no'.