Synopsis
Here I Am tells the story of Karen, a beautiful young Aboriginal woman with a dark past. Fresh out of prison, she finds herself on the streets with a burning desire to turn her life around but no one to call for help.
Eventually she finds a haven at a shelter for Aboriginal women like herself. With the support of her new community of friends, Karen begins the painful journey of reconnecting with her estranged mother and her young daughter, and she is soon propelled to face the most difficult truths of her life.
Along with the creative team behind Samson & Delilah (including producer Kath Shelper and cinematographer Warwick Thornton) director Beck Cole (First Australians) has marked out a place as one of the most important young filmmakers in Australian cinema. Set and shot in and around Port Adelaide, her debut feature is a moving story of the strength and resilience of Aboriginal women.
Here I Am is almost devoid of white characters and that takes it away from the kind of accusatory drama you might have seen plenty of times already.
Rather it concentrates on situations within the black community—a fresh approach.

A deeply felt first feature from both actor and director. — Screen International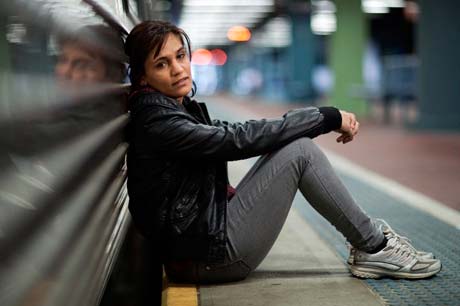 Trailer
Details
Cast

Shai Pittman - Karen
Marcia Langton - Lois (Karen's mother)
Quinaiha Scott
Bruce Carter - Jeff
Pauline Whyman - Skinny
Vanessa Worrall
Betty Sumner

Release dates

Australia - 2011
Premiere at the BigPond Adelaide Film Festival on 26/2/2011

Video/DVD release date

14 December 2011

Awards

Best Dramatic Feature Film - imagineNATIVE Film Festival, Toronto, 2011

Rating

M - Mature

Distributor

Madman, Footprint Films, Transmission Films

Soundtrack

Cliff Bradley, with songs by the Yeah Yeah Yeahs, PJ Harvey and others.

Notes

Here I Am is Beck Cole's debut feature film. It was filmed partly inside the Adelaide Women's Prison. It is also Shai Pittman's debut feature film role.

The film opened in Australia on 9th June 2011.

Beck Cole is a member of the Warramungu people and lives in Alice Springs with her partner Warwick Thornton.

Website: www.hereiamfilm.com
Watch now
Find "Here I Am" on DVD or BluRay