Movies
Making Samson & Delilah
Synopsis
Making Samson & Delilah shows the fascinating story behind the making of one of the most acclaimed Australian films.
A director, a producer, two teenage actors, a small crew and six weeks in the desert. Throw in an observational documentary filmmaker (Beck Cole) and the result is a candid and affectionate behind-the-scenes look at the making of the hit feature film Samson & Delilah.
Spanning the 18-month process of the creation and release of Warwick Thornton's debut feature, Beck Cole's documentary explores the rollercoaster experience through the eyes of Samson & Delilah's two young stars—from the first casting calls to walking the red carpet at Cannes.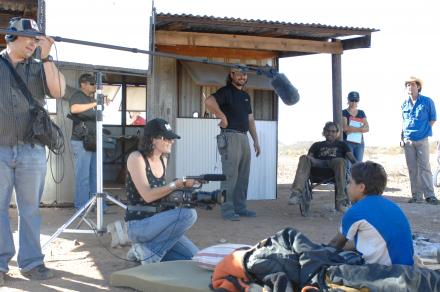 Details
Cast

Marissa Gibson - Delilah
Rowan MacNamara - Samson

Release dates

29 July 2009 - Australia (Melbourne International Film Festival)

Rating

Soundtrack

Cliff Bradley

Notes

Making Samson & Delilah is included on the DVD Samson & Delilah.
Watch now or find a DVD/BlueRay copy
Browse a list of Aboriginal film suppliers and distributors