Synopsis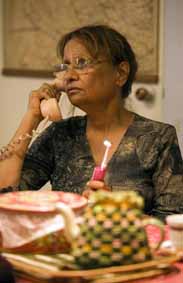 Ethel and her friend Mary are pensioners who meet regularly to play cards. But do they really play cards?

Hush takes you into Mary's house and lets you observe what really happens. The revelation starts slowly when it is revealed that one of the seniors has subscribed to an erotic magazine. But that is just the start.
Ethel's daughter Jo is horrified when she finds out that her mum is by no means playing cards. Instead she and her friend run an erotic phone service, groan lustfully into the microphones and turn electric toothbrushes into vibrators.
Director Dena Curtis says about her film: "I wanted to explore the role reversal between the mother and daughter and how sometimes the daughter, with all the right intentions, can become overbearing and forget that her mother is actually quite capable of looking after herself and that maybe keeping a sense of independence is very important to her.
"The mother and her friend find a solution to their lack of money that best suits them and enables them to remain independent. Even though they are now older, they still have a sense of humour, are charismatic and like to have fun. They are also very capable of getting up to mischief. In the end, this film is about having some fun and a good laugh." [1]
Details
Cast

Auriel Andrews - Mary (friend of mother)
Marlene Cummins - Ethel (mother)
Lisa Flanagan - Jo (daughter)

Release dates

May 5, 2007 - Australia (World premiere on the Message Sticks Indigenous Film Festival)

Video/DVD release date

2007, Bit of Black Business

Rating

PG - Parental guidance

Distributor

Flickerfest

Notes

Hush was inspired by aunties coming together to have a yarn.

Dena Curtis comes from the Warmungu/Warlpiri clans in Tennant Creek, Central Australia.

She is also an editor and production coordinator.

The end credits finish with '1900 Hot Nana'.
Watch now or find a DVD/BlueRay copy
Browse a list of Aboriginal film suppliers and distributors
Other films by Dena Curtis