Synopsis
Set in Central Australia in the 1940s, Aboriginal worker Jacob learns about the birth of his son while being out bush, fencing. When he returns from his work four months later he's in for a surprise.
He returns to his Aboriginal wife and looks at his son for the first time—he has white skin.
Angry he turns away and rejects his boy. But his anger turns to love when he learns that "it wasn't her choice" to conceive this child.
He returns just in time to rescue his son from an ant's nest where his mother has put him in desperation.
Jacob points subtle yet powerfully to the widespread practice in those days of white farmers abusing their Indigenous employees.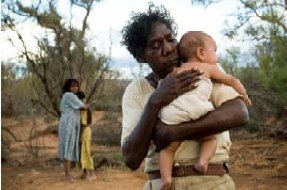 Details
Cast

Gina - Aboriginal mother
Max - Aboriginal father
? - baby Jacob

Release dates

2009 - Australia

Rating

M - Mature

Distributor

Flickerfest

Notes

Jacob is in Aboriginal language with subtitles throughout.

Rabbit-proof Fence is another film which briefly shows a scene where a white farmer enters the room of an Aboriginal girl working on the farm, undoing his pants.

Many children born from relationship (forcibly or not) between Aboriginal and white people were stolen by the authorities of that time. They are today known as the 'Stolen Generations'.
Watch now or find a DVD/BlueRay copy
Browse a list of Aboriginal film suppliers and distributors
Other films by Dena Curtis