Synopsis
Aboriginal people live on the threshold of two worlds – one of everyday reality and the other of spirits, demons and entities. They can live an ordinary life with dead ancestors and demons all vying for space.
Director Warwick Thornton assembles a collection of poignant, sad, funny and absurd ghost tales from across Australia and brings them to life with some of Australia's most iconic actors as the storytellers. Honest, matter-of-fact firsthand accounts illuminate a black perspective on the other side.
"There are some that are dangerous stories. We have to basically smoke the crew with an elder of that area. We have got some that we don't even think are human. You don't know what they are. They are the ones we are careful with, the ones that we bring in people to look after the crew and the actor. Because by talking about that entity or spirit who is a really evil nasty one, you could summon them and you don't want to take that risk. So you smoke the house and clean a path," says Thornton. [1]
Inspired by The Darkside's exploration of storytelling, The Otherside project will create a living archive of Aboriginal ghost stories – it will be a place where people can share their stories about their own encounters with the afterlife. Through an online hub, the project provides a creative space for storytellers to share their words, seek new collaborations, and further our indigenous heritage in storytelling.

A lot of my people's stories about the afterlife are locked away in the secret and the sacred. I want to use more contemporary stories to help other people understand that there is an amazing connection us Aboriginal people have with the afterlife - a connection to family that have passed on. I have seen ghosts in my life.

— Warwick Thornton, director [1]
Trailer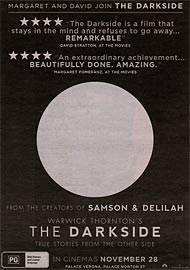 Details
Cast

Deborah Mailman
Aaron Pedersen
Bryan Brown
Leah Purcell
Shari Sebbens
Claudia Karvan
Marcia Langton
Brendan Cowell
David Page
Sacha Horler
Lynette Narkle
Merwez Whaleboat
Ben Quilty
Miah Madden
Sacha Horler
Jack Charles
Hakeem Davey

Release dates

16 October 2013 - World premiere at the Adelaide Film Festival

Rating

M - Mature

Notes

In The Darkside actors retell the stories, a move Thornton believes allows the original storytellers to relax and not be bothered by cameras.


Actors are Aboriginal and non-Aboriginal because a non-indigenous person can have an experience with an Aboriginal ghost as well. "I don't reckon ghosts are racist, you know: 'You're a white fella: I'm not going to appear to you'," says Thornton. [2]
Watch now or find a DVD/BlueRay copy
Browse a list of Aboriginal film suppliers and distributors
Other films by Warwick Thornton