Synopsis
Russell is an adopted Aboriginal boy who flies with his white foster father to Bourke to go where he was born.
He's a troublemaker, has been suspended from school and arrested.
For the Bourke Boy's father the trip is a tick-off list: Visit the Bourke District Hospital (tick), visit the Aboriginal reserve (tick), go for a swim (tick).
In the short time that his father leaves him Russell tries to grab as much as he can: his birth mother's name, a handful of earth which he puts into his pocket.
But the Bourke Boy also experiences racism by a white hotel manager.
"How come you shook her hand?" he asks his father.
"It's what you do," replies his dad.
The pair doesn't even get out of the car and leave the reserve much too quickly. A sour aftertaste remains reminiscent of the unfinished business of the Stolen Generations.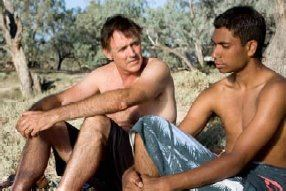 Details
Cast

Clarence John Ryan - Russell (Aboriginal boy)
Andrew McFarlane - John (father)
Katherine Moss - Hotel Manager

Release dates

2009 - Australia

Rating

PG - Parental guidance

Distributor

Flickerfest

Notes

Adrian Wills also directed When The Natives Get Restless (2007), Till Death Do We Part (2004) and Angel (2000).
Watch now or find a DVD/BlueRay copy
Browse a list of Aboriginal film suppliers and distributors
Other films by Adrian Wills