Movies
Boxing For Palm Island
Synopsis
Palm Island is a tiny slice of far north Queensland that sums up the contradictions of the state – great physical beauty sullied by great prejudice. A place with a dark history and a less than stellar reputation
It is the perfect backdrop for a group of young Indigenous Australians who are not only chasing glory but a reason to live in the boxing ring. These are real people, not clichés, and one relationship is particularly touching, between Noby, a mother of three with an infectious smile and deadly boxing style, and Uncle Ray, the man who has brought boxing back to Palm Island and is also their father figure.
73-year-old Uncle Ray helps to boost the boxers' confidence and self-esteem, but also helps himself making up for the loos of his wife who has left him for his drinking habit 10 years ago.
The unequal team represents a new era of hope, strength and courage which is about to show the world that the kids from Palm Island are fighting back and have the makings of champions. But within this gilded cage come stories of generational poverty, stories of disadvantage, stories of the vicious cycle of intergenerational trauma.
This group of boxers are defying stereotypes and taking the future into their own hands. They fight at the state title championships in Gordonvale, QLD and then take to Melbourne for the national titles in Geelong.

I always had success training boxers. Some of the boxers I used to train live on Palm Island so I thought well I'll go over there. That might keep me out of trouble.

— Uncle Ray Dennis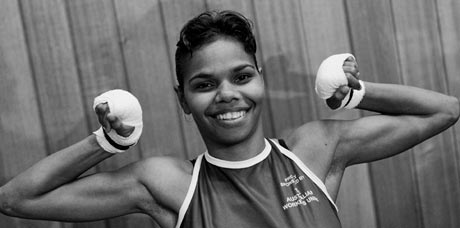 Details
Cast

Noby Clay
Selwyn Seaton
Craig De Satge
Dennis Haines senior & junior
Uncle Ray Dennis

Release dates

2010 - Australia (World Premiere during the 11th Message Sticks Indigenous Film Festival, Sydney

Rating

PG - Parental guidance

Soundtrack

Samantha Fonti

Notes

Adrian Wills says with Boxing For Palm Island he wanted to tell a positive story from a community that's been described in the past as the most violent place outside a warzone.

Noby Clay is one of the best female amateur boxers in Australia.

Adrian Wills first heard about 73-year-old boxing trainer Ray Dennis and his work through a newspaper article handed to him by the film's producer, Michaela Perske.
Watch now or find a DVD/BlueRay copy
Browse a list of Aboriginal film suppliers and distributors
Other films by Adrian Wills